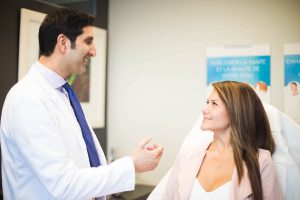 Cosmetic dermatologists, such as Dr. Manish Khanna, who have a wealth of experience and the necessary skills to perform such injections understand the capabilities and limitations of BOTOX® Cosmetic, thereby significantly increasing the success of their patients' treatments.
An excessive dose – if the dose of BOTOX® Cosmetic is too high, it could cause an expressionless face, a somewhat disfigured face, and intense headache or the inability to control certain facial muscles temporarily.
An insufficient dose – if the dose of BOTOX® Cosmetic is too low to relax the muscles in the treatment area and the results will be minimal.
The injection sites – if BOTOX® Cosmetic is not injected into the correct muscle, the treatment could be inefficient or provoke an involuntary weakening of certain muscles. This could result in undesirable results or the lack of results.
The dilution – BOTOX® Cosmetic is prepared by diluting the product in a physiologic liquid therefore it could be more or less diluted. The more diluted the solution, the softer the effect of BOTOX® Cosmetic. BOTOX® Cosmetic that is over-diluted is similar to an insufficient dose.
Interval between treatments – a BOTOX® Cosmetic treatment will generally last between 4 and 6 months. It is recommended that one's next injection be carried out before one regains the ability to contract the muscles causing the dynamic wrinkles. After repeated treatments, the frequency of visits will most likely diminish.
Patients' expectations – it is important for the physician to have a clear understanding of the results the patient wishes and expects to achieve following the treatment. Similarly it is necessary for the physician to clearly explain what can be achieved with BOTOX® Cosmetic.
Follow-up with the physician – a follow-up consultation is important so that before-and-after photos can be taken, the results can be evaluated, and if necessary a small touch up can be carried out by the physician.
To schedule an appointment with PEAU or to learn more, contact us now.