BOTOX® Cosmetic [botulinum toxin type A] is a complex protein made from the bacteria clostridium botulinum. However, when we speak about BOTOX®, the protein is purified 27 times before it becomes the product we know well as BOTOX® Cosmetic.
BOTOX® Cosmetic is the most common non-surgical cosmetic procedure in North America today. It is a safe and effective, physician-administered treatment to smooth away moderate to severe lines on the face. BOTOX® Cosmetic works by relaxing the muscles that cause wrinkles or expression lines leaving the skin smoother, tighter and wrinkle free.
The History of BOTOX® Cosmetic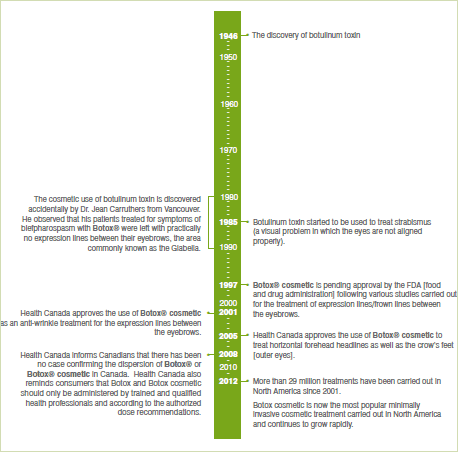 See the Chronological Chart of BOTOX® Cosmetic's History

Contact us for more information or to start your treatment.