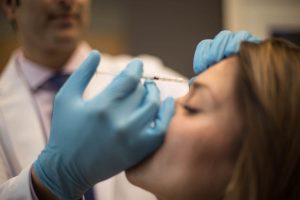 You may be intrigued by what BOTOX® Cosmetic can do for you yet concerned and nervous at the same time. Our approach is to educate you so that you can make an informed decision.
Whether you are considering BOTOX® Cosmetic for the first time or you have had this type of treatment done elsewhere, the first step is to meet face-to-face with Dr. Manish Khanna FRCP (C).
During your unhurried consultation with Dr. Khanna you will be able to discuss your concerns with him, as well as expectations as far as what you wish to achieve with BOTOX® Cosmetic. Upon examining your facial expressions and your muscular contractions in the areas of concern, he will provide you with a more precise cost for your treatment.
For further information or to schedule a consultation, our guest specialists at PEAU are available to take your call at 514-989-PEAU (7328) from 8 AM – 7 PM Monday through Friday, or you can choose one of our other contact options.